2023 Coach's Season Outlook
Each year when the calendar turns to August with football season right around the corner, my excitement for the new team increases and hopes that all our off-season preparations will lead our team to success on the field. To stand on the sidelines and coach such an outstanding group of young men who work so hard, to have the support from an amazing administration, community of teachers and the best student body around, and a group of parents who cheer so loudly on Friday night for everyone on the team, makes me proud to be part of Summit High School. Summit Football is more than wins and losses, it is a family that teaches character, hard work, integrity, and loyalty. Our motto for Summit Football is "One Way, The Right Way, Community, Classroom and Field." Our coaches and players hold that standard extremely high. Last season it all came together on the field and in the classroom. We played the toughest non-league schedule in the state, which prepared us for what we would face later in the season in hoisting the State Championship trophy for the second time in school history. We are proud to have led the state with the highest team GPA the last two seasons. We have had the highest team GPA 9 years in a row in our classification. We hope that our players look back on their experience playing football 10, 20 or 30 years from now, and will be able to say the experience they had playing football made them the person they are.
This year's team has the ability to challenge for another state title if we can gain the experience necessary and stay healthy, while once again playing the toughest schedule in the state. This group of players are a deeper team than last year's, with many positions having 3 or 4 players who have starting caliber talent. They not only understand the team comes first, but will do whatever is necessary to win. The Storm is led by 20 great senior players who either started or played significate minutes last season, and are ready to prove that they are prepared for the challenge ahead. Over the past several years our JV and Freshman teams have been building a talented group of underclassmen who will play key roles in filling out our team this season.
Our goals don't change from season to season. The key every year is to be the "City Champs." With three other programs in Bend who are well coached and talented, we feel that if we can win the City, this will set us up for a league championship. If you win the league title, you host a first-round playoff game in November in the High Desert, that can be a challenge for a team from the Valley. To come over the mountain and play at 4,000 feet in elevation with temperatures and conditions that they might not see all winter is not an easy feat. Every high school coach and player's ultimate goal is to practice on Thanksgiving Day. When you have accomplished that, you have had a remarkably successful season.
I thank all of our coaches for their dedication to being outstanding coaches and mentors to our players. I also would like thank Summit's Athletic Director Mike Carpenter and Athletic Assistant Karen Caylor for all the advice, support and help it takes to run a successful program. Most importantly I could not do my job without the incredible support from my wife, Kristal. Kristal has taken on the role of Director of Football Operations the past couple of seasons and has improved many aspects of our program. I once heard a well-known football coach say that the most important person in a football program is the wife of the Head Coach. They do so much that goes unrecognized but if not done would be noticed. Kristal lives for the success of our players and she can be found in her little corner of the stadium each Friday night.
GO STORM!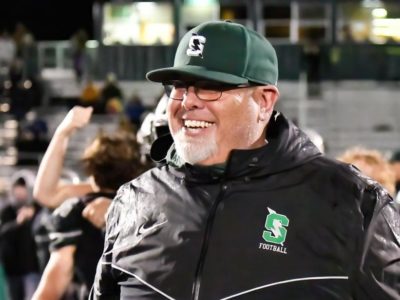 Corben Hyatt
Head Coach, Summit Football
Corben Hyatt
Head Coach, Summit Football