2022 Oregon State 5A Champions!

You asked and it's now here! Order your State Championship gear and have it delivered to your home. Hoodies and t-shirts (long and short sleeved)!
2022 State Championship Video
Special thank you to Pete Ozolin for the season-long time and effort put into creating this video!
2022 Season Outlook
Each year when the calendar turns to August and football season is right around the corner, my excitement for the new team increases and hopes that all our off-season preparations will lead our team to success on the field. To stand on the sidelines and coach such an outstanding group of young men who work so hard; to have the support from an amazing administration, community of teachers and the best student body around, and a group of parents who cheer so loudly on Friday night for everyone on the team, makes me proud to be part of Summit High School. Summit Football is more than wins and losses, it is family that teaches character, hard work, integrity and loyalty. Our motto for Summit Football is "One Way, The Right Way, Community, Classroom and Field." Our coaches and players hold that standard very high. We are proud to have led the state with the highest team GPA last season and 2nd overall in the nation. Our team won the first ever National Football Foundation Team Excellence Award for the state of Oregon. We have had the highest team GPA 8 years in a row in our classification. We hope that our players look back on their experience playing football 10, 20, 30 years from now and will be able to say the experience they had playing football made them the person they are.

Offensively this year the Storm return our top passer, rushers and receivers from a team that was ranked 6th last season and played in the quarterfinals. Senior Quarterback Hogan Carmichael will be a 3-year starter and made huge strides leading the team last season. He will be one of the top QBs in the State. Senior running back Chip Allers and Junior Sam Stephens return in the backfield and bring a dynamic pairing with a thunder and lightning mentality. Sam led the team in rushing last season as a sophomore and Chip had the most rushing touchdowns. We return our starting group of receivers in seniors Ethan Carlson, Charlie Ozolin, Sam Cross and Junior Tadgh Brown. Watch for Senior Matthew Guthrie, Junior Paxon Kettering and Collin Moore pushing for playing time and contributing to our offense. Summit will be able to line up in multiple formations due to a strong group of tight end and H-backs. Senior Lucas Steffen will line up all over the field and create match-up problems for our opponents. Most high schools don't have a true tight end but Junior Charlie Crowell has the size of a lineman and runs like a receiver and we will count on him to dominate on the line of scrimmage and in the middle of the field. The key to any offense is play along the offensive line and we return 4 starters. Seniors Carter Nelson and Spencer Elliott were both named 1st Team All-League last season. Senior Hank Brundage will be a 3-year starter at left tackle and junior Braden Bailey worked hard last season to earn a starting point mid-way through the season and has added strength and size this off-season. Senior Aaron Maloney and Sophomore Cameron Gadsby will man that last spot on the offensive line. Both have had a great off-season looking to earn that starting spot.
Our defense was incredible last season leading the State with the best scoring defense, but we lost a number of valuable seniors. Summit's strength on defense will be led by a great group of defensive linemen. Seniors Chip Allers and Spencer Elliott earned 1st Team All-League honors last year and are two of the best defensive players in the State. Both bring a blend of speed and power that most offensive lineman can't stay with. Senior Hank Brundage held down the other defensive tackle position last year. Seniors Aaron Maloney, Cole Montgomery and Juniors Braden Bailey, Charlie Crowell and Aiden Kelly will all rotate and add 8 deep on a great defensive line. Seniors Carter Nelson and Lucas Steffen return at linebacker this season. Summit will need to fill the third linebacker position. Senior Finn McNairy and Juniors Kallon and Holden Booher have all been repping at that 3rd spot this off-season. The Storm lost 3 out of 4 defensive backs from last season but return All-League and 3-year starter safety Charlie Ozolin. Charlie tied a school record with 7 interceptions last season and is the vocal leader in the defensive backfield. Summit has talent to fill in those 3 defensive back spots with corners, Seniors Sam Cross, Matthew Guthrie, Harper Fox and Junior Collin Moore battling to earn the 2 starting spots. The other safety spot has Seniors Ethan Carlson, Jared Brees and Junior Sam Stephens vying for playing time.
The Storm's special teams will be a strength again this season due to our record number of students participating in football at Summit. The JV/Varsity program has 70+ players this season. Having this large turnout gives coaches many opportunities to put players into roles on special teams where they excel and have ownership. Special teams is a third of the game and is often overlooked as a valuable piece in the success of the team. We put a focus into our special team units and recognize our player contributions to the overall success of the team.
I want to thank all of our coaches for their dedication to being outstanding coaches and mentors to our players. I also would like thank Summit's Athletic Director Mike Carpenter and Athletic Secretary Karen Caylor for all the advice, support and help it takes to run a successful program. Most importantly I could not do my job without the incredible support from my wife, Kristal. Kristal has taken on the role of Director of Football Operations the past couple of seasons and has improved many aspects of our program with her role. I once listened to a well-known football coach say that the most important person in a football program is the wife of the Head Coach. They do so much that goes unrecognized but if not done would be noticed. Kristal lives for the success of our players and can be found in her little corner of the stadium each Friday night hanging on each play.
GO STORM!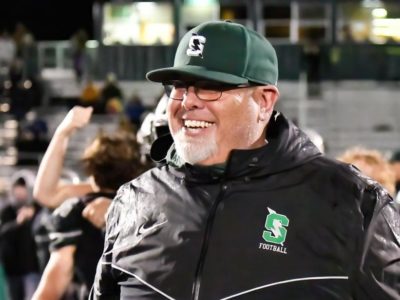 Corben Hyatt
Head Coach, Summit Football
Corben Hyatt
Head Coach, Summit Football