2021 Season Outlook
Each year when the calendar turns to August and football season is right around the corner, my excitement for the new team increases and hopes that all our off-season preparations will lead our team to success on the field. With everything that we all have been through the past 18 months, looking forward to a season where we can all come together and have a sense of community again is maybe the most important thing the next couple of months will bring.
To stand on the sidelines and coach such an outstanding group of young men who work so hard; to have the support from an amazing administration, community of teachers and the best student body around and a group of parents who cheer so loudly on Friday night for everyone on the team makes me proud to be part of Summit High School. Summit Football is more than wins and losses, it is family that teaches character, hard work, integrity and loyalty. Our motto for Summit Football is "One Way, The Right Way, Out in the Community, In the Classroom and On the Field." Our coaches and players hold that standard very high. We are proud to have lead the state with the highest team GPA in our classification, for the past 7 years. We hope that our players look back on their experience playing football 10, 20, 30 years from now and will be able to say the experience they had playing football made them the person they are.

I want to thank all of our coaches for their dedication to being outstanding coaches and mentors to our players. I also would like thank Summit's Athletic Director Mike Carpenter and Athletic Secretary Stacey Hager for all of the advice, support and help it takes to run a successful program. Most importantly I could not do my job without the incredible support from my wife, Kristal. I once listened to a well-known football coach say that the most import person in a football program is the wife of the head coach. They do so much that goes unrecognized but if not done would be noticed. Kristal lives for the success of our players and can be found in her little corner of the stadium each Friday night hanging on each play. GO STORM!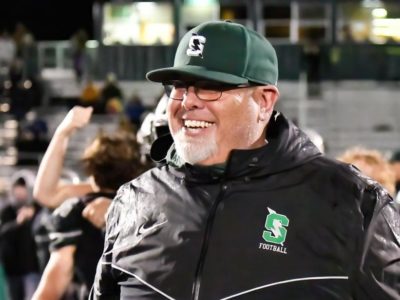 Corben Hyatt
Head Coach, Summit Football
Corben Hyatt
Head Coach, Summit Football